History
The History of Campanelli Stadium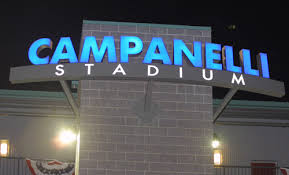 Fenway Park, in Boston, bears the name of Fenway neighborhood, located in the heart of the city. The Chicago Cubs' Wrigley Field is named for one-time team owner and chewing gum mogul William K. Wrigley. Yankee Stadium in New York and Dodger Stadium in Los Angeles boldly trumpet the names of the teams who take their fields each summer.

But where did Campanelli Stadium get its name?

The Brockton Rox home is named after a native of the "City of Champions." Alfred Campanelli, grew up with his brothers, Michael, Joseph, Nicholas, and sister Ann in a four-story tenement on Summer Street in Brockton, Massachusetts.

In 1947, along with his brothers and brother-in-law Salvatore DeMarco, Mr. Campanelli founded the Campanelli Companies. The company focused their early efforts on building single-family homes that veterans could purchase at reduced rates through Veterans Administration and Federal Housing Authority loan programs. Through Campanelli Companies, Mr. Campanelli reached out and aided thousands of people in achieving the American Dream of home-ownership. Today, the Campanelli Companies, based in Braintree, are nationally known commercial real estate developers.

In 1958, Mr. Campanelli moved to Schaumburg, Illinois. In Schaumberg, Mr. Campanelli donated $3.85 million to pay off the mortgage and finance the building of an addition to the local YMCA. Though living 1000 miles away, Mr. Campanelli has always had a special place in his heart for Brockton. He donated $2 million to the City of Brockton to be used for the creation of a building or project that would substantially benefit the people of Brockton. In turn, the City of Brockton used that money to help finance the building of a baseball stadium for the Brockton Rox. A stadium which proudly wears the Campanelli name.

Alfred Campanelli, whose generosity to Brockton is immeasureable, passed away on April 9, 2003. His legacy lives on.